Monsû Vincenzo Lancia
Vincenzo Lancia was born August 24, 1881 in Fobello, high VALSESIA.
Fobello is for Lancia Family the holiday site.
His father Joseph, who will live up to 97 years, is a business man with a deep passion for technology, evidenced by the food preservations inventions that are recognized to him.

Vincenzo Lancia, inheriting the characteristics of the father, is a young man impatient to school discipline, exuberant and fascinated by the world of machine, that are literally on its doorstep.
In the Lancia backyard of Corso Vittorio Emanuele 9 in Turin, in fact, there is' the workshop of the company Ceriano, first bicycle manufacturer and car pioneer then.

In 1898 Vincenzo Lancia resulting hired as a clerk, but in reality he's working in the firm, passing by the construction, design, repair.
In 1900 when Ceriano was bought by Fiat, he comes into contact with a different reality, it will mark in the future.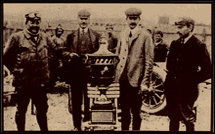 Vincenzo Lancia is for Fiat initially a valuable tester, then from 1900 a better sport driver, enough to be considered the faster in its period.
He runs the main races as the "Circuito di Padova", the "Targa Florio", the "Gordon Bennett Cup".
In 1905, his participation in the U.S. at Vanderbilt Cup remains memorable and despite an accident caused by another driver relegate him to fourth place, The New York Times elevates him to hero and American children are even built toys of his car

But nothing is forever, and in 1906 Giovanni Agnelli must communicate to an astonished Board of Directors of Fiat that Vincenzo Lancia, along with Claudio Fogolin, intends to leave the company, to start a new car factory.
Despite the new adventure, Vincenzo Lancia continue to run for Fiat until 1908, but without great fortunes.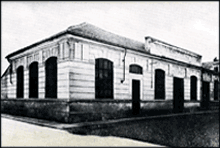 Meanwhile, Vincenzo Lancia is responsible for the general direction of his new company, while Claudio Fogolin is the commercial director, until August 1918, when it comes to family reasons.
While absorbed by the management of the company, Vincenzo Lancia will not forget his past as a pilot, helping to finance the birth of the Monza Autodrome and to become a promoter of an autodrome near Turin, Avigliana.
His last race as a driver will be in Modena in 1910, finally with a Lancia car.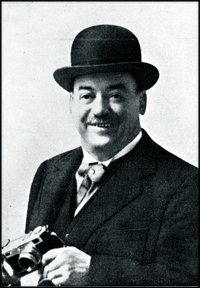 In 1920 he becames "Cavaliere del Lavoro"
In 1922 he married his secretary Adele Miglietti, which will have three children, Anna Maria, Gianni and Eleonora.
In 1928 he joined the board of directors of the "Teatro Regio" in Turin.
In 1930, helps Battista Farina to start the "Carrozzeria Pinin Farina".

Vincenzo Lancia for his company is the focus.
He founded it and has shaped the product, is the Leader.
For designers is the final tester, the "boss" always willing to talk with the workers
and to understand their problems.
Every day tests a car produced by his factory.
He died suddenly of a heart attack at either 56, February 15, 1937.
He is buried in the family tomb of his native Fobello.