Le Corse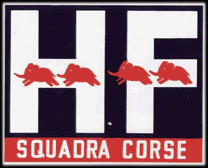 After the experience of Formula 1, new rally victories will flow: Piero Frescobaldi win the 1962 "Rally dei Fiori" with a Flavia.
Lancia starts to look carefully at this kind of competition because without the efforts of Formula 1, they highlight the qualities of brilliance and road holding of the normal production cars.
The "Squadra Corse" reborn, with the elephant emblem and the initials HF, High Fidelity. First with the Flavia Coupe', then with the Fulvia 2C, Coupe' and Coupe' HF, the victories are followed: Tour de Corse, Rally Sanremo (former Rally dei Fiori), Rac.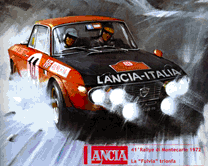 In 1972, the Fulvia Coupe 1600 HF is now at the end of its career, but it allows Sandro Munari important successes (such as the Monte Carlo Rally) and leading to Run the World Rally Championship.

In 1974, 1975 and 1976, with the Lancia Stratos won three consecutive world.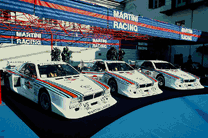 In 1979 the Lancia returns with the Lancia Beta Montecarlo Turbo.
For two years, 1980 and 1981, wins the Endurance World Championship.

In 1983, Lancia again wins the World Rally Championship with the Rally 037.
The Rally 037 will be the last two-wheel drive car to win a World Rally Championship.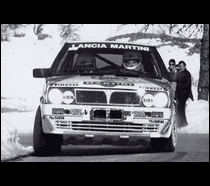 After the experience with the ultra-powerful cars of Group B and the decision to ban the rally cars with more than 300 hp, the development of the Lancia Delta S4 end and start the Delta integrale era.
Is the 1987. For six years in a row, the Delta HF 4WD and subsequent Delta HF integrale, dominated the rally scene.
Six constructor world titles, five world drivers, 46 victories out of 66 races, mani more victories in national competitions.
A palmares difficult to beat and still unbeaten.