Lancia Club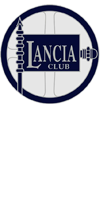 The Lancia Club, established in 1972,
is an important point of reference for connoisseurs, owners and admirers of the models of the Turin brand.
The activities of the Club mainly tend to bring together the admirers of the brand, helping to spread the history of the same and promoting the brand's automotive culture accordingly.
The Lancia Club is the certifying authority of the authenticity of historical Lancia cars as well as the holder of the Registro Storico Lancia.
Membership allows you to participate in the Club's activities, receive technical and historical information, certify your cars in the Registro Storico Lancia.
A.S.I.
L'A.S.I., Automotoclub Storico Italiano, established in 1966,
is a Federation made up of 282 federated clubs and 55 member clubs.
As a non-profit organization under private law by decree of the Italian President of the Republic it brings together about 152,000 fans of historic vehicles and represents Italian historic motoring at all competent national and international bodies.
It takes care of the maintenance and updating of the National Register of Historic Vehicles, issuing Certificates attesting the historicity and authenticity characteristics of the vehicles.